The SGAM-Toolbox aims to be a little help for architecting Smart Grid Systems in reference to the Smart Grid Architecture Model (SGAM) as introduced by the "Smart Grid Coordination Group". It is implemented as extension for the modeling tool "Enterprise Architect" from Sparx Systems.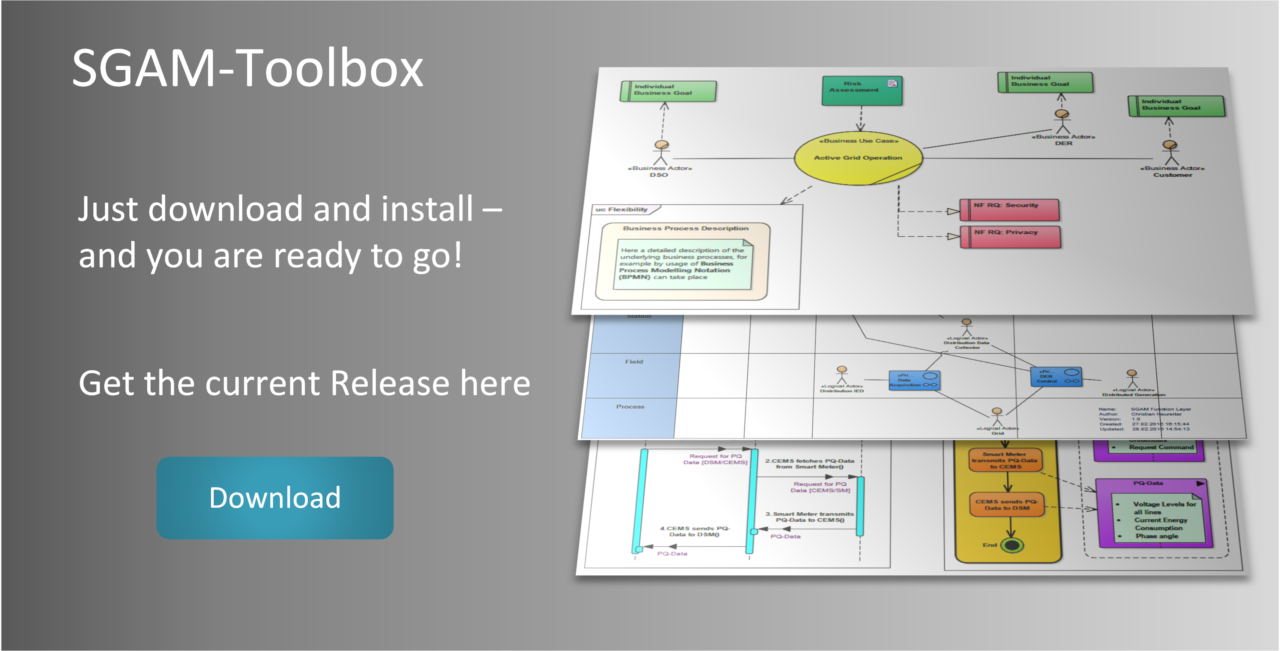 History
After implementing various Proof of Concepts, the current version of the SGAM-Toolbox consolidates all implemented functionality and introduces a guidance through the modelling process of a Smart Grid Project.
Technology
The toolbox is based on the "Model Driven Generation" technology provided by EA where the results are stored in a XML-based file. The language of choice is C# which allows to make use of all functionalities that come with it.
Outlook
The next step is to improve the toolbox according to usability and scope of functions. To achieve this, the toolbox is under continuous processing and integration of suggestions from constant exchange with the community.
Please take a look at the additional information hereinafter to learn about the possibilities and usage of the SGAM-Toolbox.
Resources
---
Documentation
Tutorials
!!! Please don't forget to set your youtube player to HD with 1080p resolution!!!
Examples
---
Further Information
---
References
Smart Grid Coordination Group, "Smart Grid Reference Architecture," CEN/CENELEC/ETSI, 2012
Publications
Neureiter, D. Engel, and M. Uslar, "Domain Specific and Model Based Systems Engineering in the Smart Grid as Prerequesite for Security by Design," Electronics, vol. 5, iss. 2, p. 24, 2016.
Neureiter, M. Uslar, D. Engel, and G. Lastro, "A Standards-based Approach for Domain Specific Modelling of Smart Grid System Architectures," in Proceedings of International Conference on System of Systems Engineering (SoSE) 2016, Kongsberg, Norway, 2016, pp. 1-6. Best Paper Award.
These and further publications can be downloaded here.
---