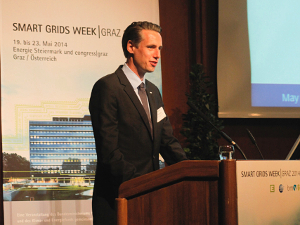 Three members of our research staff and one of our master students presented their research activities at the Smart Grids Week in Graz.
The Smart Grids Week has been established as an important meeting place for business, network operators and researchers in the field of intelligent electricity infrastructure. From 19 to 23 May, about 300 national and international experts met in Graz to exchange their latest knowledge and for initiating future projects.
Christian Neureiter held a poster presentation about "Model Driven Architecture for Smart Grid Systems" which was worked out together with colleagues from OFFIS (Institute for Information Technology Oldenburg).
Christian Peuker and Chrisitan Peer, alumni of the school of Information Technology and Systems Management presented their Master's theses: "Kommunikationssicherheit in einer Smart Metering Infrastructure" is the title of Christian Peukers work and Christian Peers work is titled "Hierarchical Key Management for Multi-resolution Load Data Representation". Dominik Engel participated in a panel discussion on user acceptance of smart meters and the role of privacy.