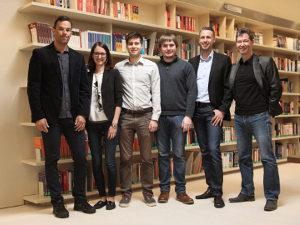 The digitalization of the energy domain is a key factor for a successful energy system transformation. Intelligent energy systems – Smart Grids – will enable the large scale use of distributed, renewable energy resources. Moreover, Smart Grids will foster important applications such as electric mobility and Smart Home solutions.
An important topic is handling of data that is collected by ICT systems. Analysis of these data will revolutionize the energy sectors business processes and models. Since these processes need the participation of end-users, their acceptance and trust is an important prerequisite for which in turn the protection of end-users privacy is essential.
Therefore, researchers of the study courses ITS and AIS will investigate in the research project DASPEOS how data analytics can be combined with privacy enhancing technologies (PETs).
"The known benefits of digitalization are opposed to legal and societal data protection requirements, that need to be taken into account in the data collection process, e.g. in smart metering", Dominik Engel explains. "Privacy enhancing technologies can fulfill these requirements, especially for smart metering."
Together with Günther Eibl the data protection expert will support the researchers Fabian Knirsch and Sebastian Burkhart in the integration of PETs for energy data analyses and prototypical implementation for selected application domains.
In the data analytics part together with partner Fact AI KG Cornelia Ferner will search for ways to apply these concepts to machine learning algorithms. Particularly deep learning and representation learning will be considered as it is an area in which previous knowledge has been gathered through several research projects.
"Fascinating methods exist that distribute information in such a way, that the desired use of information and privacy protections will not interfere each other." explains Stefan Wegenkittl. However, these methods are only rarely used up to date.
The industry partners Salzburg AG, Salzburg Wohnbau and Siemens Salzburg support the project with their expertise in the development of functional applications.
The results from the DASPEOS project will form the basis for the digital transformation of business processes in Salzburgs energy domain.