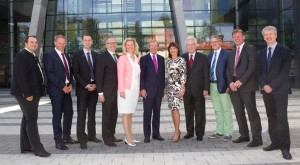 Our research team and our university management are pleased that we could welcome our Governor, Dr. Wilfried Haslauer, on July 3rd. Together with our company partners Salzburg AG and Salzburg Wohnbau, we presented our research activities to him and informed about our future plans.
The Land Salzburg has granted our research centre with an initial funding, which was the particular occasion for Dr. Haslauers visit.
"Smart grids are the future of energy grids. Salzburg is already a smart grid model region, where major companies such as the Salzburg AG and the Salzburg Wohnbau are lead partners with researchers at the Salzburg University of Applied Sciences. Thus, the direct link between industry and research is to the benefit of both sides" explained Governor Dr. Haslauer. He congratulated our research team for its productive cooperation and wished success for our future.